René Kromhof, formerly of Heptagon, has joined the Voima Ventures team as a Venture Partner. With an impressive background in photonics and hardware scaling, he brings valuable expertise into the Voima Ventures team and portfolio companies. 
Many of Finland's deep tech companies are in the photonics and semiconductor industry and more generally in the areas of micro electronics and hardware. With René's first hand global experience from being part of the rapidly growing hardware businesses, startup investments and exits, he offers a great value-add and perspective to deep tech companies.
"Over the last few years I have become increasingly impressed with the high quality of tech startups in Finland and the Nordics", René says, "Joining Voima Ventures for me is an unique opportunity to jointly identify promising technologies and scale them to global disruptors. All that with a highly professional and fun team."
During his time at Heptagon and later as a board member and angel investor in various startups he has gathered a wide global network that is crucial in helping Nordic startups to reach the full potential. Not to forget his long standing position in Finland as a sought after industry expert.
"Scaling deep tech from the Nordics is super tough, but at the same time the value creation opportunity and the quality of science startups in this area are unique. With René joining the Voima Ventures team, we can yet more effectively combine the science-driven innovation with Nordic serial entrepreneurial expertise and global mindset", adds Inka Mero, the Founder and Managing Partner of Voima Ventures.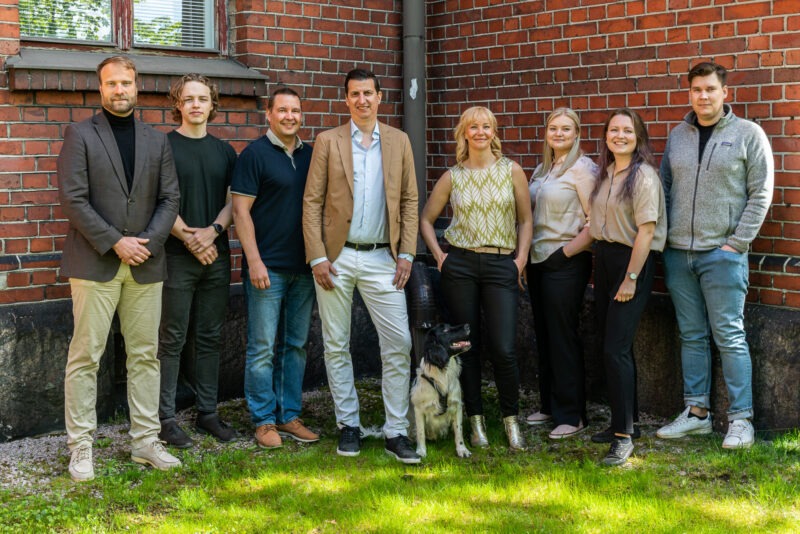 From left: Pontus Stråhlman, Tapio Parkkonen, Mikko Kumpulainen, René Kromhof, (Aku,) Inka Mero, Veera Pietikäinen, Julia Ehrnrooth, Niko Elers